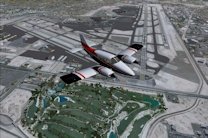 Las Vegas Tours - Featured: A series of three simulated flights over Las Vegas

with views of North Las Vegas, the Las Vegas Resorts, Las Vegas and Las

Vegas Golf Courses. Information is also provided about Las Vegas tours

including Las Vegas Helicopter tours. We end the series with a landing at Las

Vegas Airport. Consider RRS Feed for updates. Others tours - St Petersburg

Beach Tours, Miami Tours, Tampa Tours and San Francisco tours.